I am going to go out on a limb and speak to something that gnaws at me regularly. You know, that kind of staying up at night wondering about the conversation you COULD have had if you had the presence of mind, or the courage, to have had it. Believe it or not (for those who have worked with me and know how obnoxiously outspoken I can be), I do hold back my opinions a lot for many reasons, mostly related to job security 🙂 But things gnaw at me sometimes nonetheless, and I've reached a point of feeling like I'm doing a disservice to UMW without raising an issue. So, consider this issue raised.
Steve Greenlaw (one of our more outstanding faculty members, in case you didn't know) sent me a link yesterday to a story about the new home page for Ozarks Technical Community College (screenshot below):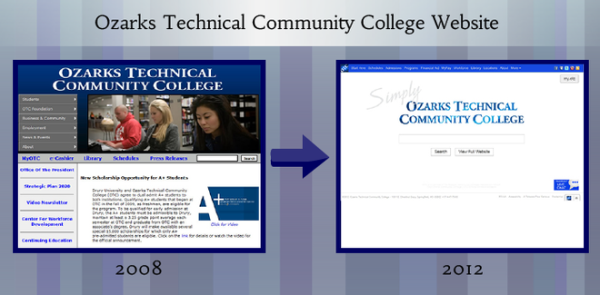 This hearkened back to a conversation I had with DTLT years ago. Jerry Slezak (another UMW hero/genius now leading Information Technology Services) suggested at the time, as we went round and round with discussions of home page designs for the new Teaching Center, simply suggested that a search box would be the most effective tool to get people to what they want. We joked about simply redirecting our umw.edu url to Google — that it would be more efficent.
This is a seductive idea which places efficiency above all, and gives the driver's seat over to the site visitor completely. Indeed, designing home page navigation is a crap shoot at best, frequently driven by internal politics and assumptions about "what students are looking for." And, believe me, at UMW, I have learned that students are looking for whatever the content is that a particular stakeholder comes to me to complain about not being sufficiently visible on the home page 🙂 Okay, I'm being harsh, but there is more appeasement than design, more compromise than art, more smoke/mirrors than science, involved in this notion of a "splash page" to introduce the University to the wider world. It's just a fact.
Knowing this, I can see where the Ozarks folks may have arrived at this solution. They used actual science — the stats on how folks navigated their site using primarily the search box — to inform their bold choice. But, although clever and efficient, I am not so sure about its utility at a more complex institution with multiple colleges, where programs may have similar names, and  where content creators are highly decentralized, as they are at most larger institutions (and at UMW). That's putting an awful lot of faith in your search algorithm, Google search or otherwise, as well as in the ability of the content creators to get the right stuff in the right places, and then have the metrics bear out so that the most relevant stuff in the more obscure categories of information come out on top. I think this could have been effective at Mary Washington College prior to 1999, when the Stafford campus opened and introduced a set of redundant content owners, more than one campus, degree program and prospective student audience. Search for "registering for classes" and you could have been sent anywhere because there were dual functions on both campuses.
When I came along in 2001, sorting through the redundant content on the James Monroe Center site, and having endless arguments about who owned what function (read: web content) became a staple argument that kept on going until CGPS became a campus, and organization of student service functions was better defined. If there had been only a search box for a home page during those days, I honestly don't know if the phones ever would have stopped ringing with complaints and confusion.
Assuming my above argument addresses why the home-page-as-search-box model may not work for UMW from an efficiency/customer service standpoint, what exactly is the beef I have with the more conventional home page we now have? In a word: SEO relevance. Ask any SEO (search engine optimization) expert (and the world is LOUSY with them these days) what is the number one way to move your rankings up and keep them up and they will tell you: CONSTANTLY CHANGING CONTENT THAT IS CONSIDERED RELEVANT BY RECOGNIZED AUTHORITATIVE WEB SITES. Period.
Here's where I lose my job: For all of our redesigning, we have bowed to the pressure of the print-design mentality of a nice "cover" to our university that will succinctly capture the essence of UMW. We argue about the brand platform elements, and how the images and their captions convey a message about the Great Minds brand. We are not serving the needs of our SEO, but of a good print marketing campaign: consistent messages. SEO does not care about consistent marketing messages — it cares about interesting, dynamic content competing for daily air-time with larger institutions. Google doesn't care that we are a liberal arts institution and we are awesome. It cares about what we are doing NOW, TODAY, and whether it's any different from last week. Because if it's not, our rank drops.
Google does not rank our home page based on whether the picture of that student and a pithy caption capture our essence. It cares if the picture of that student is essentially a headline about NEW story, posted as a newspaper would post a story, dated and attributed to an author. It cares that we regularly have new stories featured in the main content area which, for all intents and purposes, is our big photo rotation area.
Do we have news releases? Yes, but they are at the bottom of the page. Would they make great splash photos? Well, mostly not, because what it takes to get a great splash photo is a photo journalist on staff 24/7 who can capture incidents as they happen in high-quality images. High-quality images mean waiting for our once-a-month photographer to take photos of features that are scheduled ahead of time. The images that come out of breaking news are frequently stock photos of faculty, or of campus, because it's what we have.
So, what am I saying? Well, perhaps it's that where I don't think a single search box would work, I'm not convinced that coming to a home page with a big-honkin' image and caption is really useful from a user, or SEO, perspective. And I wish I had the nerve to say it when we were doing our re-design. But, the beauty of the web is that it's fungible. If we have courage, we can tear this thing up and do it again.
In essence, I would like to see less print-think both in design AND in maintenance of our site. Constant changing home page content is not constantly updated canned photos and captions — it's actual stuff going on day-to-day. Which gets to UMW Blogs and our new faculty content aggregator — who knows what up-to-the-minute content we'll have access to in a few months? Our home page could actually look less like a book cover, and more like an open book. Ain't that higher ed anyway?